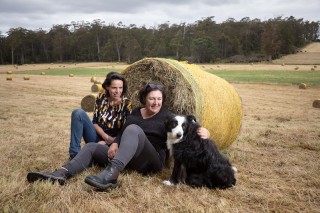 2019–2020 Hocking Fellow, Liz Everard on how COVID-19 has highlighted the potential of nature-based interventions.
When I started my Hocking Fellowship project in late 2019, I intended to research a number of therapeutic or care farm communities that exist in the United States and Ireland. My aim was – and still is – to explore how this model of care could be provided in the Australian context. Unfortunately, the COVID-19 pandemic has put my travel plans on hold.
As the virus has spread rapidly around the world, disrupting our familiar realms of work, education and play, many of us face a binary choice: to hunker down at home, or to go outside.
Physical distancing rules mean heading outdoors has become one of the few activities left for those wanting to escape their house. An unexpected benefit of this situation is that people around the world are spending more time in nature. Studies have shown that spending even just 20 minutes per day in nature can lower stress hormone levels, boost self-esteem, and improve mood. Nature is a welcome relief from the increased worry and tension many might be feeling right now.
For some, spending time in nature might involve going for a run, or taking a walk in the park. For others, it is spending time in their garden, or simply sitting under a tree.
The mental health outcomes of spending time in nature have long been documented. They include reduced depression and anxiety; improved concentration, attention and cognitive restoration; and increased happiness, satisfaction, and quality of life. In fact, these positive effects are so well-recognised that more and more doctors are issuing 'nature prescriptions' to help treat a range of conditions, including: heart disease, hypertension, high cholesterol, diabetes, chronic stress, depression and anxiety, insomnia, and PTSD.