Post Traumatic Stress Disorder (PTSD) is a condition that can catch you off guard. You're coping just fine and then — boom! Life becomes difficult. Out of nowhere.
That's what happened to Ken Kemp, a veteran that served in the Australian Defence Force for 27 years, many of those on deployment.
After he came back from Afghanistan in 2013, his world changed dramatically. He was discharged from lifelong service because of injury, and his wife left him. Shortly afterwards he collapsed, and spent three months recovering in Cairns' Mater Hospital and Townsville's Trauma Rehabilitation Unit.
Ken had been unaware that his experiences on the front line had affected him so deeply. Yes, he'd seen some terrible things — a 12 year old suicide bomber, peers working for him that got killed, deathly explosions every other day — but that's all in a day's work for a soldier.
Ken worked through trauma recall with a psychologist to identify the things that had rocked him and found six major issues. These brought with them grief, shame and survivor guilt, a stark reminder that you can only bend a stick so far before it snaps.
One of the treatments that helped Ken was equine therapy. He spent five days with a group of other vets on the Gold Coast hinterland, working through his trauma with the help of horses.
Mates4Mates in partnership with Equine Encounters Australia runs a unique, five-day residential Equine Assisted Therapy program for veterans. Teena Woodall one of the facilitators on the program says, 'Horses mirror what we're feeling energetically, they can teach us a lot about ourselves.'
Participants build a relationship with one horse during their stay through on-the-ground activities including walking, grooming and obstacle courses. 'A horse doesn't need to know your story,' Teena says, 'but it can help you find the answers.'
Ken remembers his first day on the retreat. He stepped into the paddock with seven other vets and Teena brought in the horses.'Don't try to pick a horse,' she said, 'let one choose you. And then just accept the horse.' The men had similar worries as they stood in the paddock — please let a man's horse choose me, don't let it be a pony. A 16.2 thoroughbred, Manny, came towards Ken.
The memory that stands out for Ken is an afternoon when he was standing close to Manny, cuddling. He started to cry, and couldn't stop. For over half an hour, Manny stayed by him with his head on Ken's shoulder.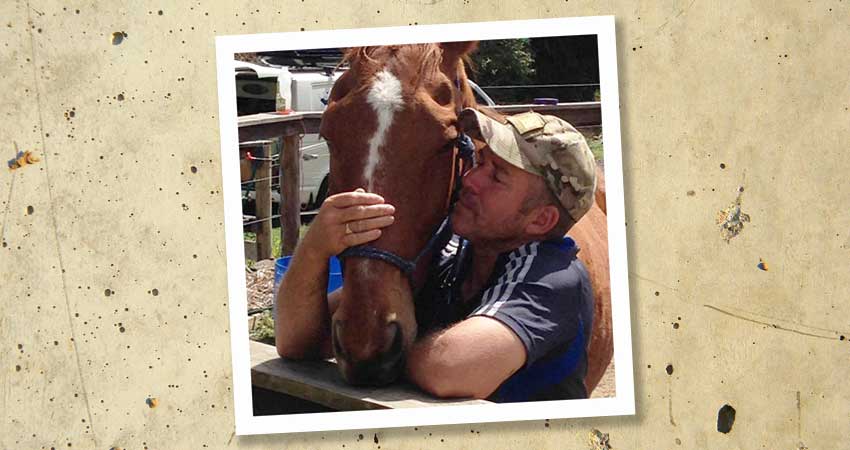 At the peak of his illness Ken withdrew from the world. The horses reminded him that it's rewarding to open up. By mirroring our emotions, they make it impossible not to. And with that come the beginnings of acceptance and self belief.
Every evening the group would debrief. They shared things they wouldn't have a chance to speak about at home, with each other and an army psychologist.
Ken also learnt that if you're nervous or flighty with a horse it gets confused and plays up. It's looking for a leader. If you build rapport, show strength and exude confidence, the horse is happy. But this needs to be genuine, not bravado.
Life still presents challenges for Ken, but animals help him through. He now spends a lot of time with horses, volunteers with animal welfare charities and lives with Rufus and Raj, his rescue dog and parrot. Animals provide him with company, conversation and routine on the difficult days. He calls them his little rays of sunshine.
Equine therapy can help with all sorts of conditions, but the results depend on the individual. Horses showed Ken his fears and gave him permission to be vulnerable. They've also been successful with anxiety and prisoner rehabilitation. With mental illness the therapy is always used alongside other treatments.
Read more . . .
Interesting video . . .