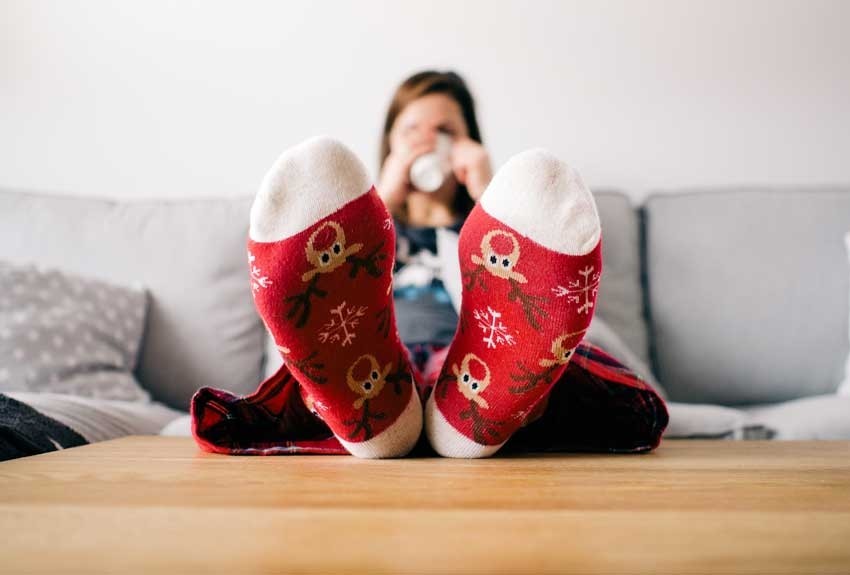 Absolutely!
Is it okay to take the bits of Christmas that work for you and discard the rest?
Definitely!
And is it okay to enjoy the solitude of Christmas Day and indulge yourself without feeling guilty?
Bring it on!
Whether you find yourself alone this Christmas by choice or circumstance, it can be a liberating experience to buck the Christmas trend of togetherness. After all, being alone and being lonely are not the same thing.
So, make Christmas what you want Christmas to be. It doesn't need to be a day to simply 'survive'. You can choose to forget it's Christmas Day altogether, or take an opportunity to be a little selfish and celebrate your independent self.
Getting out and about
Embrace the emptiness
These tiny moments afforded by Christmas Day are some of life's luxuries:
Walk along uncluttered streets
Take self-timer photos and walk away – no one will be around to steal your camera
Be the only person in the only shop that's open
Take your pick of the best views, uninterrupted by others
Stroll along the quiet beach
Sit in your favorite park with your favorite book
Utilise the empty roads and enjoy a day trip
Take in the Christmas store windows, without a queue
At home
Soak up the beginnings of summer:
enjoy some gardening
start some spring cleaning
do some DIY rennovations
In the community
Volunteering during the holidays is a way to connect with others, boost self-esteem and help people less fortunate.
Maybe serve dinner at a soup kitchen, take gifts to a children's hospital, or visit residents at a nursing home.
If it's too late to register your interest there are other ways to help. Visiting a neighbour or starting a conversation with a stranger could be just the thing both of you need on Christmas Day.
If you're a Christian, attend a church service. Christmas services are often the most popular, with naitivity scene activities, carols and if you're lucky Santa may even pay a visit!
Alternatively, some councils or neighborhoods offer a community Christmas party you may be able to join.
Staying in
Be actively lazy
Stay in your pyjamas all day
Have a marathon movie day, or choose a TV series that you've been waiting to watch from beginning to end
Find a book and curl up on the couch, in bed or outside
Pamper yourself – paint your nails, shave, wax, trim, moisturize, soak in a bath, enjoy at box of chocolates, drink some mulled wine
Lip sync or dance around the house to loud music
Enjoy your love of cooking, crafts, knitting or painting
Decorate for Christmas
It may seem unusual to decorate when you're by yourself, but it can be a great way to get into the Christmas spirit and lift your own spirits.
Put up your Christmas tree, or for an authentic look buy a real tree
Choose your favorite decorations, or buy some new ones
Make your own Christmas decorations
Hang some lights on your front porch
After you have decorated, buy yourself some gifts. Even though you buy yourself things through the year, it is nice to treat yourself at Christmas too.
You can even wrap the gifts and put them under the tree to open on Christmas morning
If you have a pet, don't forget to give them a special present, and a special meal
Buy something off the internet for yourself on Christmas Day. You'll have something to look forward to long after Christmas is over
Plan your own Christmas meal. As you are celebrating Christmas on your own, you can serve all your favorite foods. Maybe turkey and ice cream, pizza, or something more traditional.
Get your favorite foods, favorite drinks, desserts and all the trimmings
Set the table however you like, or lay a picnic rug in front of the TV
Or if you are feeling rebellious, eat in bed
SANE Forums member ideas
Members of the SANE Forum have offered some excellent suggestions on doing Christmas your own way, or boycotting the season altogether. Check out the following threads for some tips and advice:
Christmas is what we make it
Christmas can be a difficult day, but it can also be what we make it. It may be that you simply need to change your expectations for the day. You can change Christmas to meet your needs whatever they may be, ignore it completely, or ignore the bits that don't suit you.
This isn't to say reframing is easy. If your vision of Christmas is peaceful joyful families, the whole Hallmark scene, then stepping away from that may be hard. You may plan a perfectly 'ignored' Christmas, but find you are longing for the ideal storybook Christmas.
The thought that everyone else is having a wonderful time of togetherness can accentuate the feeling of being alone and disconnected. And all of this can be a challenge.
So please know if you are alone and feeling lonely, there are services to contact for support over this time.
Support Services
Lifeline
13 11 14 (24/7)
Crisis Support Chat (7pm–4am)
Kids Helpline
1800 55 1800 (24/7)
Web chat
Suicide Call Back Service
1300 659 467 (24/7)
Online counselling (24/7)
The Butterfly Foundation
A national support line for Australians experiencing eating disorders
1800 33 4673 (8am - 9pm AEST, Monday to Friday)
Drug Counselling Online
1800 888 236 (24/7)
Online counselling (24/7)