Tania and her dog Kelsey make a striking pair as they walk every day near their home on the Victorian Surf Coast. Kelsey is a handsome Rottweiler and Tania a tall, fit woman in her 40s. Some days they head for the beach, other days along the banks of the Barwon River.
Although Tania enjoys the exercise, it's the companionship with Kelsey and beauty of the surroundings that never fail to lift her spirits.
'I love animals,' she says, 'and I particularly love dogs. Some of us with mental illness can become self-absorbed. Whenever I am with Kelsey, and particularly when we are out walking, I focus on her rather than myself. I am totally engaged in what she's doing. There are lots of lovely places to walk and that exposure to the natural environment does have a positive impact on me.'
Tania moved back to Ocean Grove to be close to her friends and family, whose love and support, she says, have helped her accept and manage her illness effectively. (She was diagnosed with Bipolar disorder over 20 years ago.) Tania has a wide network of friends in the area and it was through them that she discovered another passion – the joys and benefits of music.
She and a group of friends get together every few weeks and make music. 'About six of us play the guitar, a couple play the drums and we all sing. I find it extremely relaxing and good fun.'
Tania first became unwell in her 20s, while serving with the Victorian Police Force. She was diagnosed five years later and although the Police Force had been compassionate and understanding, she eventually decided to leave.
'It was a very difficult decision to make as I was well supported within my workplace, and had good pay and work conditions – but my personality is such that I become over-involved in work and take work-stress home. Unfortunately stress is a significant trigger in becoming unwell.'
It was a decision that led Tania to embark on a new career. She completed a Bachelor of Education and Training at the University of Melbourne, and enjoyed the experience of being a mature-aged student. After graduating, she worked as a trainer, conducting team building with work groups, community groups and universities.
A few years later, Tania took part in a Bipolar group therapy program that covered education about the condition, early warning signs, triggers such as stress, and the importance of building relaxing and pleasurable activities into daily life. Tania remembers what an eye-opener it was to discover that Bipolar is not a one-size-fits-all illness.
'My involvement in the course was rewarding and inspiring, and while it sounds like a cliché, it did change my life.'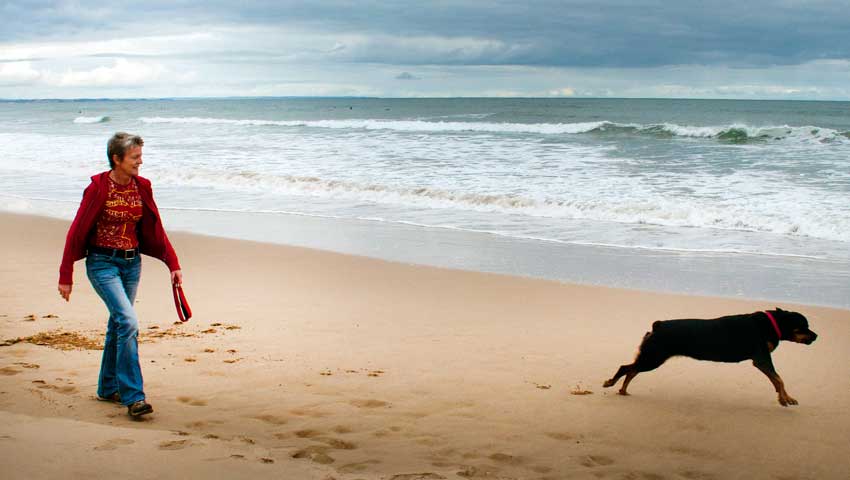 The program prompted Tania to change jobs once more and move into the area of mental health. She felt she could make a significant contribution not only through her skills as a presenter and trainer, but also her years of accumulated knowledge, personal experience and insight. She now works for Barwon Health, coordinating and facilitating Mental Health First Aid to work and community groups.
Tania admits it took her some time to learn how to manage her illness well, that her family and friends have helped her through some difficult times and that, although she is good at monitoring herself, they also keep an eye out for her.
'They're very good at saying to me, 'Tan, are you a bit buzzy? You seem a bit "whatever."' I am able to hear this and usually what I do is go away and reflect on it and say, 'Actually, I'm OK' or 'No, I'm not very good.'
Last year, Tania set herself the goal of becoming much fitter again. This has always been an important part of her life but she was not following any regime apart from walking.
'The fitter you are physically, the more likely you are to keep good health mentally,' she says.
In the midst of her busy days, Tania scarcely has time to draw breath. 'I live a rich life,' she says. 'I am blessed with a loving family and friends and my loyal companion Kelsey. I have meaningful work and am able to use my experience of living with mental illness to educate and help others.
'I have great work colleagues who are very supportive but my challenge for the future is to relax more, think less, and enjoy every bit of the journey.'