A new study by national mental health charity SANE Australia reveals an alarming lack of support for mothers with a mental illness, during their pregnancy and after giving birth.

SANE Australia's study found that almost 3 in every 4 expectant mothers were offered no support or information on how to plan for the stresses pregnancy and parenthood could place on their mental health.

This was despite the fact the majority of respondents reported having a mental illness such as depression, bipolar disorder, or schizophrenia before becoming pregnant.

The study also found that more than half of the respondents received inconsistent and even conflicting information and advice regarding breastfeeding and medication.

'This is not only confusing and worrying for mums themselves, but it is also potentially dangerous,' says the Executive Director of SANE Australia, Barbara Hocking.

'Becoming a parent can be a joyful yet daunting time for anyone,' explains Ms Hocking. 'For parents managing a mental illness, the challenges can be even greater and they often need additional information and support from health professionals – be they doctors, mental health or maternal and child health care professionals.'

SANE Australia's Research Bulletin 13 – Parenting and mental illness: the early years also found that practical help for this group of new parents, such as extra home visits or child care, was not offered to the vast majority of respondents.

In addition, one in every two people surveyed feared losing custody and one in five actively considered relinquishing their baby.

'It's critical that new parents are told about, and where appropriate, referred to, any additional support services that are available,' says Ms Hocking. 'Health professionals – especially GPs and case managers – need education and encouragement to help parents prepare a contingency plan, in the event that the mother becomes unwell in the future.'

Prof Fiona Judd, Director of the Centre for Women's Mental Health at Melbourne's Royal Women's Hospital says: 'health professionals have a responsibility to advise and treat the whole person, but it's clear from SANE's research that they need to work together much more closely, so services are coordinated and information provided is consistent, as this is an especially vulnerable time.'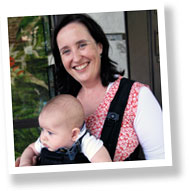 Fiona Sawyer's story
'I was diagnosed with depression when I was 19. When I became pregnant last year, I was very worried about what was going to happen when I had the baby and how I would cope if my illness worsened. I didn't know what to do about my medication – in fact I got conflicting information.  Since having William, in September, I have regularly reminded myself of how to manage my depression. I had no idea it was possible to get additional parenting support. Personally, I've been lucky because I've had great family support.'

Fiona Sawyer is an event manager and proud mum to William. She lives in Sydney with her husband.
Click here to view SANE Research Bulletin 13 - Parenting and mental illness: the early years
SANE Australia Media Release
For information, advice and referral on mental illness -
contact the SANE Helpline on 1800 18 SANE (7263), or go to www.sane.org

SANE media contacts:
Media Manager:
Robyn Thompson
This email address is being protected from spambots. You need JavaScript enabled to view it.
Media Advisor: Jeremy Little
This email address is being protected from spambots. You need JavaScript enabled to view it.
Phone: 03 9682 5933
Mobile: 0414 427 291