A new study by SANE Australia finds that most Australians with a mental illness receive little support at work, and more than half those surveyed did not believe their manager had an understanding of mental illness and its impact in the workplace.

The survey by national mental health charity SANE Australia found that a staggering 95 per cent of respondents said employers and managers needed education on mental illness, and training on how to manage its effects in the workplace.

While more than 60 percent of respondents reported that their mental illness had not been a barrier for them in finding a job, the majority said that no support had been provided to them once they were in a job.

'With one in five Australians experiencing some form of mental illness every year, we are talking about a significant number of people who face difficulties in the workplace,' says SANE Australia's Executive Director, Barbara Hocking.

'The survey paints a concerning and unsatisfactory picture of Australian workplaces. Many employees, including those who care for a family member with a mental illness, are being disadvantaged by a lack of flexibility, such as being able to work part-time, to work from home at times or to have adjustments made in the workplace. As a result, businesses lose experienced employees and have to spend time and money investing in new people,' Ms Hocking explains.

SANE Australia's Working life and mental illness study found that three quarters of the 520 respondents surveyed had never received information or help from government programs designed to assist workers to maintain their job.

Encouragingly, the survey revealed that two thirds of respondents had disclosed their illness to their employer or manager. Not disclosing, often because of fear of losing a job, increases stress and prevents access to the very support that can promote successful employment.

According to Ms Hocking, there is an overwhelming need for education and training in the workplace about mental illness and its effects.

'We need "mentally healthy workplaces" where stigma is reduced and employees with a mental illness can ask for support without prejudice. We need to work with employers, managers and co-workers to reduce the misunderstanding and stress associated with mental illness, so it is treated in the same way as physical illness.

'Better understanding and support for employees affected by mental illness not only helps them stay in work, it also improves management of staff and resources for the employer,' she says.

As Federal Minister for Mental Health, Mark Butler, has acknowledged, Australia employs fewer people with a mental illness than many other countries.
The Research Bulletin's findings support recommendations SANE Australia made in a recent submission to the Senate Inquiry into mental health and workforce participation. In its submission, SANE Australia called for:

•    The removal of barriers to employment;
•    Ongoing support to find and keep a job;
•    Improved access to employment agencies and rehabilitation services;
•    Improvements to enable greater ease of disclosure and
•    Workplace education enabling managers and co-workers to supervise, work alongside and – when necessary – to support a colleague with a mental illness.


Nicci's story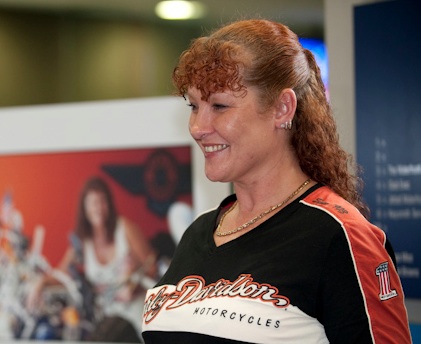 Nicci Wall says she's 'in a good space' these days. During the week she has a job she enjoys and on weekends she and her partner Michael enjoy the beautiful Bellarine Peninsula on their Harley Davidsons.

But Nicci's life hasn't always been as enjoyable. Diagnosed as having bipolar with obsessive compulsive tendencies in 2001, at the age of 35, Nicci had been to numerous doctors, counsellors, psychologists and psychiatrists since her first major depression more than 20 years earlier.

Throughout these years she had married, raised children and held down a job. But it was tough. 'At times I hated my life, my family, my job, the world and myself. In my eyes I had nothing to lose, nothing to live for. I knew there was something wrong and I was petrified,' Nicci explains.

'There are so many factors in taking back control of your life following a lifetime of being on an emotional roller coaster. A good job, where you're supported and feel safe, is very important. I didn't always have that support. In my previous work I wasn't taken seriously and my mental illness was seen as the problem, rather than poor management. In the end I left,' she says.

Nowadays Nicci works as a bookkeeper at Geelong Harley-Davidson. 'My boss and co-workers are aware that I have bipolar.  My boss took my illness into account when setting up my work hours. I have flexible hours and because I have erratic sleep patterns, I take work home and often do it in the middle of the night.'

Nicci says her colleagues have been fantastic. 'They were curious and we've had lots of discussions. Working with people who understand what mental illness is and what it means makes all the difference in a job.'


Click here to view Research Bulletin – Working life and mental illness or go to www.sane.org

SANE Australia offers a wide range of resources to assist people diagnosed with mental illness and their families. Call the SANE Helpline on 1800 18 SANE (7263) or visit sane.org for more information.