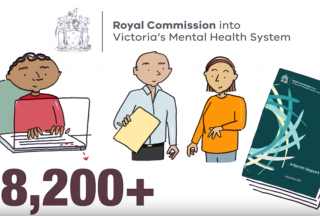 The Royal Commission into Victoria's Mental Health System handed down its Interim Report on 28 November 2019, highlighting the need for fundamental reforms to better support people affected by mental health issues.
SANE Australia shares the Commissioners' view that the current crisis-driven mental health system is a result of continual poor investment decisions driven, ultimately, by stigma and discrimination. This has led to enormous inequality and in turn, has led to barriers to access with treatment often dependent upon socioeconomic status and geography.
It is deeply moving to see these systemic failures acknowledged in this way.
SANE Australia welcomes the Interim Report as the culmination of more than 8,200 contributions outlining the changes that need to happen in Victoria's mental health system, to better meet community needs and expectations. We are heartened to see that the Commissioners have listened to and really heard the stories from people with lived experience of mental health issues, their families and friends.
In July 2019, we lodged a submission to the Royal Commission detailing 72 recommendations, and provided evidence on the impact of stigma and discrimination for people affected by complex mental health issues. We are pleased to see many of the issues raised in our submission are included in the Commission's Interim Report.