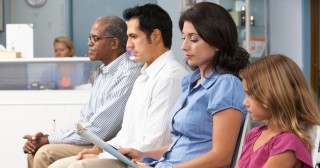 Often when we're struggling to cope with our mental health, people tell us: "Go and have a chat with your GP". But what if you don't trust your GP, haven't seen a GP in a long time, or aren't sure what you would say?
When people give us this advice, they're often on the right track. GPs are a good first step – they can help us explore any underlying physical issues, and suggest different options for supporting our mental health.
But it can be really nerve wracking to make that appointment ...
How do I find a GP?
If you don't already have a trusted GP you can visit, there are a few options:
Ask people you trust if there is a GP or medical clinic they've had positive experiences with. You want to find someone who'll be non-judgmental and supportive.
You can use a service like Health Direct Service Finder to find clinics convenient to you. Their website has some profiles of different GPs, so you can see if they list 'mental health' as an area of interest or expertise.
You can also call Health Direct on 1800 022 222 to get a referral over the phone.
What should I say?
It can be hard to communicate that we are struggling. We might not be used to talking about feeling vulnerable, or might battle with feelings of shame. We may also not know what kind of information is important to get across.