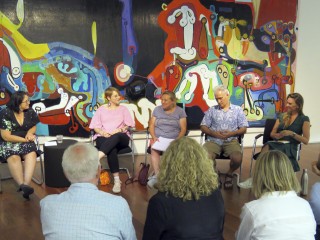 On Thursday 28 March, Julia Young, Curator at The Dax Centre, sat down with four artists from their current exhibition—STIGMA: dismantled, revealed to talk about their experience of stigma, self expression and art making.
Once the audience had indulged in cheese platters and drinks, they gathered around Cornelia Selover's oil on board artwork, The complex heaven of a broken mind, to hear Simon Crosbie, Lucy Hotchin, Kylie Steinhardt and artist in residence Jessie Brooks-Dowsett participate in a Q&A style panel conversation.
"What are your experiences of stigma, and how do you feel we can dismantle and reveal it?," Julia asked the artists.
"I think my own self stigma was my biggest obstacle," Kylie said.
"Emergency room stigma from doctors, nurses and the medical system is the worst. That's the part of the stigma that gets in your soul," Lucy added. "The whole idea of doing well whilst experiencing mental illness—you can actually be in a state of flux and still be doing well in life."