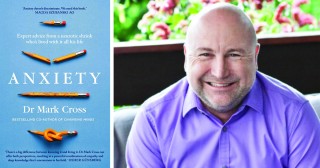 "When the idea for this book was mooted, I was excited. During the first conversation with my publisher, I was already working out the layout in my head and making a list of people I'd interview. That was before my anxiety kicked in ..."
Consultant psychiatrist Dr Mark Cross knows a lot about anxiety. Many of his patients experience it, which is hardly surprising given anxiety is the most common mental health issue in Australia.
But Mark also knows about anxiety from another perspective, because he too has lived with it all his life.
His new book, Anxiety, aims to demystify this mental health issue, while sharing his own life-long experience of it.
While anxiety can occur on its own, the book also explores how it frequently occurs alongside, or as part of, complex mental health issues.
The foreword is written by Magda Szubanski AO. In it, she notes, "As I write this, Australia is on fire. As a consequence, anxiety on both national and personal levels will, without question, escalate … Although not written in response to this national crisis, Mark's book is an expert, deeply compassionate, practical guide to anxiety, in all of its manifestations."