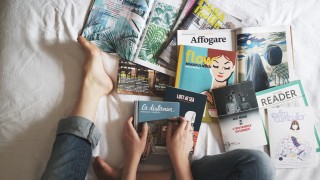 Living with a diagnosis of Obsessive Compulsive Disorder means that everyday life is often a challenge at the best of times.
I'm always wondering what the next 'obsession' will be. What will my brain decide to irrationally cling to this week? It never really goes away, even in my 'clear' weeks my brain is ticking away in the background prompting me to obsess over something. OCD is absolutely exhausting.
Of course, it's not the best of times right now. COVID-19 has taken over all of our lives and there isn't a single person I know that hasn't felt the impact of this new normal that has essentially turned everything we rely upon upside down and inside out within a matter of weeks.
For me, my OCD has always been related to health issues and contamination – so a global pandemic sounds nothing short of terrifying for a person who has irrationally diagnosed herself with every disease under the sun since her teenage years – right?
Wrong. I have somehow managed to remain somewhat calm, in control and relatively OCD flare-up free since February. I've spoken to my husband and my friends about this at length, particularly as they were mentally preparing for me to spiral into a whirlwind of anxiety that they would have to help lift me out of; and I've got to be honest, I don't really understand how I've managed to keep the OCD monster at bay.