Shane is 29 years old with a string of qualifications. Diagnosed at first with Depression eight years ago, he was later found to have Bipolar disorder. Since his first episode, life has been a roller coaster.
'I'd love to go back to financial planning, but unfortunately when I'm down – and with this condition I often do feel down – I struggle to get out of bed.'
But Shane fights back. And he has a loyal person fighting beside him – his partner Kate who has been with him for three years. Shane says his family, especially his mother, help him greatly – but it is having Kate in his life that makes the difference.
'There's no middle ground with Shane,' says Kate wryly. 'There's never a day that is just alright. It's either the greatest day ever or the worst day of his life and everything is crap.'
'The best thing about Shane is his sense of humour. We laugh at the most ridiculous things, even his illness.'
'I defined myself as a financial planner. The job was my passion. Now I struggle – with who I am and what my future holds.'
Soon after Shane's diagnosis, Kate started a support group in the country town where they lived, 'because Shane thought he was the only person in the world who had Bipolar'.
Three people turned up to the first meeting. Then the local paper did a story and the group took off, attracting up to 25 people, both those with a diagosis as well as family members. Meetings are an opportunity for carers 'to drink tea and vent,' while those living with Bipolar disorder 'sat together and talked about the tablets and how crap their weeks were and how much they hated us!'
A lot of the time, Kate was the only partner. Many who attended were mothers in their sixties or seventies looking after adult sons and daughters. Known as The Extremes, the group meets fortnightly and has become an important gathering for its members who share stories, anxieties, ways of coping, information and insights. They offer each other support, strength and friendship without pressure.
Establishing the group helped Kate support Shane with ongoing problems, of which the main one is finding the right medication to manage his symptoms, including the intoxicating highs and desperate lows of his mood swings. Shane has had three years of trialling different medications to find one which works well for him.
'This frustrates me because there does not seem to be logic behind it – what works for someone doesn't work for another,' he says. 'I'm currently on the ninth medication I've tried.
'Some have massive side-effects, and when I go back to the psychiatrist they say I'm used to being high – and they've brought me back to a normal zone. I consider that unsatisfactory.'
'I say, "You didn't know me for the last 26 years and now you see me once a month for half an hour – so how do you know what's normal for me?" When you see a psychiatrist you want them to give you hope, not say you are in the normal zone. Most people in the group say it takes about five years to find the right meds.'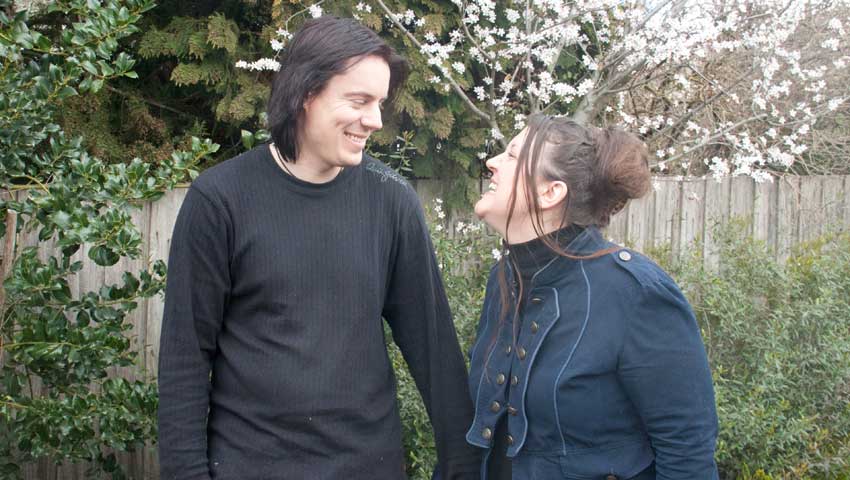 Last year Kate moved to another town in the area, to work in the family business. This means living separately from Shane, an arrangement that works better for both of them. They spend weekends and occasional weekdays together.
'When we lived together we were at each other's throats constantly,' says Kate. 'Our longest argument was 16 hours straight. Now we haven't argued for a while.'
'At least three hours!' interrupts Shane, roaring with laughter. He and Kate clearly enjoy teasing each other. She points to his long hair and casual clothes and says he had a neat short haircut and wore suits when they first met. Not working allows him perhaps to express himself more freely.
'I don't know if it's the real me,' says Shane. 'If I were to define the real me, naturally I would describe only the good aspects of me. I could say I'm a great person and the negative things are due to the bipolar disorder. But that's too simplistic. I'm not sure if there is such a thing as the real me.'
Shane is in awe of Kate's empathy and understanding of his illness. She realises he has a problem accepting that the person he is, is the person she loves. 'I fell in love with the Bipolar you, Shane,' she tells him gently.