Sally can't stop beaming. Her two dogs – Muschka, a Staffy-Jack Russell cross and Axel, a puppy whose ancestry includes sausage dog and fox terrier – respond to her mood, jumping and dashing around her East Melbourne living room.
Sally's partner, Dan, smiles before quietly leading the dogs out so Sally can talk about the new job that excites her so much.
'It's a huge challenge,' Sally says of her new position as National Logistics Manager for an Australian Government safety program. 'I'm working in an atmosphere where everything is go-go-go. I love being there.
'My attitude is, throw me in the deep end and I'll swim. Give me something to do, and if I don't know how, I'll work it out!'
Sally was offered the job on the spot when she was interviewed, and the boss wanted her to start straight away, but the human resources department insisted on putting her, like all new recruits, through a rigorous medical.
Sally disclosed the fact she had been diagnosed with Bipolar disorder at 19, and was dismayed by the attitude of the doctor who interviewed her.
'She asked if I'd been hospitalised and I said, "Yes, several times, but have been well for five years." Her response was, "So your illness is so severe you've been hospitalised," rather than, "You've been well for five years, how do you manage your illness?"'
'I thought this would cost me the job, but it didn't.'
Sally is very open at work about her Bipolar disorder. 'A long time ago I decided Bipolar was not something to hide, not something to be ashamed of. I didn't ask for it, I didn't do anything wrong to cause it. I'm not a bad person because I have Bipolar – so I am going to talk about it openly.'
Sally appears so self-assured, it is hard to imagine how much her life has changed. Only eight years ago she was, she says, 'Sick – really, really sick – in and out of hospital, and not living a functioning life or anything close to one'.
A key to finding her way out of the maze was the unwavering love and practical and emotional support of her parents, particularly her mother Jayne.
'Mum is my backbone,' says Sally. 'However tumultuous our relationship when I was younger, she recognised that my behaviour wasn't just horrid teenager-ness, and kept on at me about getting help.'
Throughout her twenties, Sally refused to move back home no matter how unwell she was. When she wouldn't eat, Jayne brought her meals. When she refused to get out of bed, Jayne gave her bed baths, cleaned her house, walked Muschka, checked her mail.
'Mum read everything she could on Bipolar disorder. She went to every doctor's appointment with me. She visited me every day in hospital,' Sally says.
'She was there 24/7 for me on the phone. If I wanted to self-harm or anything like that, I'd call Mum – even at three in the morning. She drilled into my head, "Pick up the phone – not the knife". (I used to cut myself when I was unwell.)'
Today, Jayne sees her main role as a sounding board, and speaks to Sally most days.
Jayne is acutely conscious that Sally still gets frightened if she has troubling feelings and thoughts, and knows she is sometimes the only one who can talk her round.
'She rang the other day saying she was feeling stressed,' Jayne says. '"I know you're not spiralling down," I told her. "It's probably just your job. It's very demanding."
'By the end of the conversation she sounded different. If I hadn't been there to talk to on the phone, she might really have gone down.'
Jayne is thrilled at how well Sally is managing her life now. She describes it as 'the most fantastic feeling, knowing she has a job, a lovely partner and hasn't been hospitalised for years. I'm very proud of her'.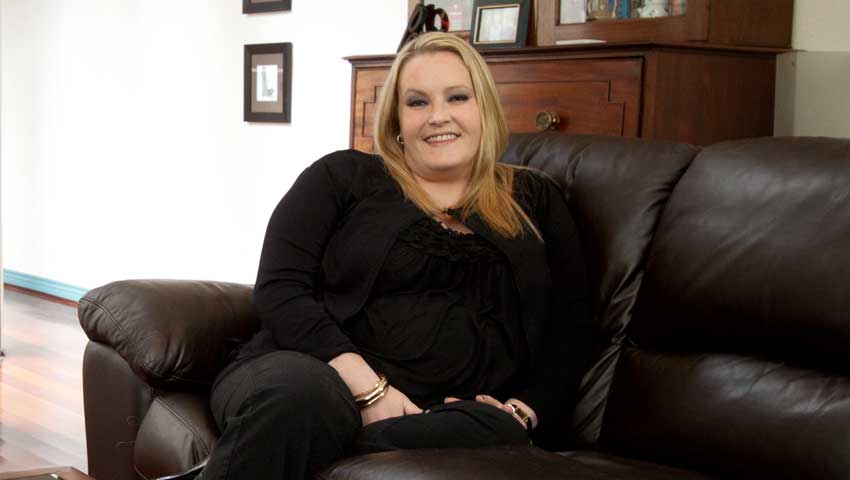 Also fundamental to Sally's recovery was finding the right doctor and the right combination of medications. As well as drugs, she had ECT (electroconvulsive therapy) which affected her memory for a while, but saved her life. She now has an understanding with her doctor that if she feels the need, he arranges for her to have another session. 'I've had ECT twice over the past five years,' she says. 'It's worked like a charm.'
'I know my warning signs. I know the difference between what is anxiety for a reason and irrational anxiety for no reason whatsoever – about something as simple as going to the letter box to get the mail.'
These days she shares her busy life with Dan, who works in IT, and for the first time knows what it is to be in a loving, well-functioning relationship. They met at work a few years ago and have been together ever since.
'Dan knows all my ups and downs as well as the possibility that I may get sick again one day. He's very supportive and kind, quiet and calm. Sometimes when I get into an emotional tizz over nothing, he'll say," take a step back, take a few deep breaths, go and lie down, watch TV or whatever."'
A year ago Dan gave Sally a disco ball and a course for them both in Latin American dancing. This turned out to be a fun activity they both love, and the class continues to be one of the high points of their week. Sally says she expected to shine on the dance floor, but that Dan is so good he makes her look uncoordinated.
Sally is philosophical about the years she endured when her Bipolar disorder was not well managed.
'It's been a tumultuous journey, but I've learned from it,' she says. 'I'm a full-on person but I'm very empathetic. I know what it is to suffer. I've learned so much about life that many people will never know.'