Miles and Jo Buchanan – a son and his mother – are vivid examples of people who have fought a long battle against the effects of his mental illness, and ultimately triumphed over them.
Miles and Jo have travelled together on a long journey which began when – as Miles puts it – he fell 'from the heights into the gutter'. He was working as an actor before he left school, and by his early 20s was a Logie-winning celebrity, living a party lifestyle.
'But I am naturally introverted – to an extreme degree,' he says. 'I found myself increasingly dependent on alcohol and cannabis to get past the shyness, nervousness and anxiety, and to project the charismatic personality people assumed I had.'
It wasn't until he failed to show up one night when performing with the Sydney Theatre Company that there was any inkling he was in trouble. What followed was years of struggle with Bipolar disorder, including suicide attempts and many hospitalisations.
Jo's love and support for her son was constant throughout. 'She became my primary carer because I couldn't look after myself,' Miles says. 'I certainly wouldn't be here without her, or without the medication.'
A key factor in Miles' recovery was his involvement in a 12-step program, which began three years ago. Designed to help people conquer addiction to drugs and alcohol, it profoundly influenced his life.
'The turning point for me was the Third Step, which involves surrendering,' he says. 'The whole concept of admitting powerlessness and accepting that you need help is such a hard thing to do to begin with, but so wonderful when you achieve it.'
The spiritual principles of the program rekindled Miles' interest in Buddhism, a philosophy which had strongly attracted him as a teenager. The practice of Buddhism and study of its sacred texts have become central to his life.
'I am a lot more content with the way things are than ever before,' he says. 'I was always frustrated. Now I meditate, I read and practice the ethics. It keeps me calm.'
Last year Miles stayed for two weeks at a Tibetan Buddhist monastery in Queensland. His dream is to spend a longer period at a Buddhist monastery in Japan.
Over the years Jo has encouraged Miles to set himself goals, many of them to do with his natural creativity. He studied music seriously at the Sydney Conservatorium of Music and the University of Melbourne, but the stress eventually proved too much.
Currently he is putting his creative energy into writing as well as music, and is working on a book which will bring together some of his writings and drawings.
Jo herself has published Wings of Madness: a mother's journey. Her book tells a gripping story and has touched the lives of many people affected by mental health problems. She describes it as 'a story of hope, faith, human resilience and finally, positive outcomes.'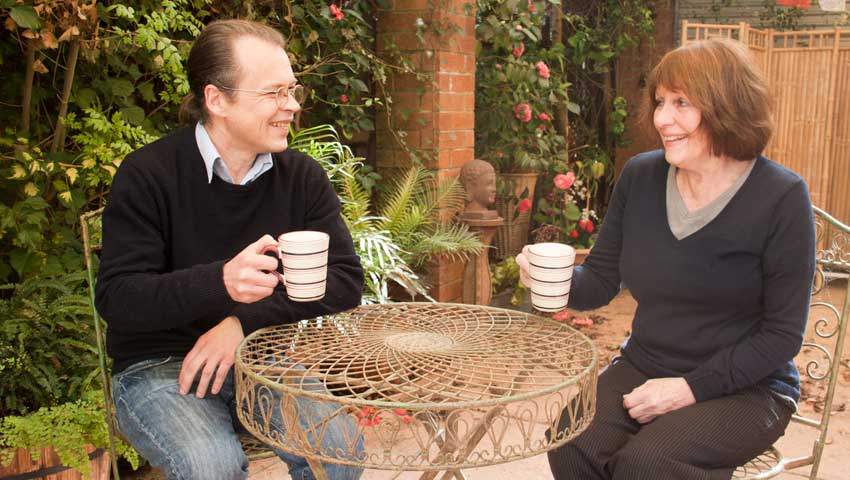 Another member of the Buchanan family who publicly supports those affected by mental illness is Miles' sister, Simone. She has also played the role of a young woman with Bipolar disorder in Channel 10's Neighbours drama. The writers had approached SANE Australia for help with the character's language and behaviour, and Simone was able to add further authenticity.
'Sometimes there would be language in the script that was unintentionally misleading or simply inaccurate,' says Jo. '"I think you should take that word out," Simone would say. "I'm not going to use it." And they would listen to her. At other times she would ring Miles and ask him if he'd react in a certain way. He'd say yes or no, and the scriptwriters would go with it.'
Simone and her sister Beth, also an actor, live in Melbourne with their families. Jo and Miles moved to Victoria to be closer to them, and have settled in a small town near the city to enjoy the rural peace.
Miles recently moved into an apartment on his own near his mother's home, and is managing on the Disability Support Pension. Jo admits she found it very difficult to step back at first.
'I kept wanting to ring him all the time and check on him,' she says. 'It must have felt strange for him to live alone at first.'
There were times when Jo never imagined the day would come when Miles would be able to live independently and be working on his creative projects. She and Miles catch up once a week, having a meal together, or visiting Beth or Simone.
Jo is in awe of how far Miles has come since his first breakdown, and marvels at the improvements that have taken place in his life.
'Before, when he had his early success in acting, Miles used to say, "Isn't this amazing?" But it's not amazing when underneath it all there's Depression and a very distressed person. To me he is at his most successful time in life right now.'