Thirty years ago Keith had a serious heart attack, and what was then termed a 'nervous breakdown'.
Working as an engineer, Keith had been assigned to a job with different responsibilities. He soon began having panic attacks so distressing that at times he feared he would die.
Realising that stress was a significant factor, his psychiatrist warned Keith and his wife Anne, that he might live for another decade if he retired early, but would not survive more than a few years if he went back to work.
While he was right about the stress, the psychiatrist underestimated the couple's determination to overcome the situation they found themselves in.
Now in their 80s, Keith and Anne have been married for almost 60 years.
'In retrospect, I think I suffered from excessive anxiety all my life,' Keith said. 'I have experienced severe heart palpitations for as long as I can remember.'
Keith faced reality and realised he must retire. Anne, who was teaching at the time, agreed with the decision, but was extremely worried.
'Keith would sit in a corner for hours and just look out at the street,' she said. 'I thought he was suicidal, so I decided the best thing to do was for me to quit work too, and be with him.'
This was a major decision. They had very little money, two children to support and little social life as Keith could not cope with late nights and crowds.
The future looked bleak. For Keith and Anne, turning to face the right direction meant tackling Keith's condition on every level.
They began – literally – by walking.
Every morning after breakfast they would drive to the bay nearby, and begin their day with an hour's walk on the beach. It was something they could do together which had enormous physical and mental benefits.
'If Keith was having a bad day, he would suddenly squeeze my hand and I knew that the sea and everything about it was wonderful for him,' says Anne.
It is a routine they have followed most days ever since, although Keith had slowed a little since a serious heart attack.
As well as walking, Keith and Anne took up bowls and bridge, and in the winter became grey nomads, heading north to continue their beach walks in the sun.
Money was another challenge. They had a few savings, little super and, after taking legal action, one year's salary for Keith. It was not enough to last until they were eligible for the pension.
Keith had no faith in the financial advisers they talked to, and decided to study the stock market himself. He found it fascinating.
'We got into the share market at just the right time,' says Anne, 'and our assets grew with us so we had an income – not huge but enough to get by.'
Keith also began working on his inner life. He came across two books on Anxiety by Dr Claire Weekes. He found them life changing.
'There were very few self-help books on the shelves at that time,' he says. 'Now shops are full of them; it's become huge.'
The books taught Keith how to relax and enjoy life by overcoming stress and fear, explaining how the nervous system was out of balance. He not only read and re-read them but also sought out other books to help him understand his illness and give him the tools he needed to 'keep walking'.
Time spent in rehabilitation after his first heart attack introduced him to meditation. He tried a range of approaches including hypnosis and relaxation but found it all but impossible to calm his mind.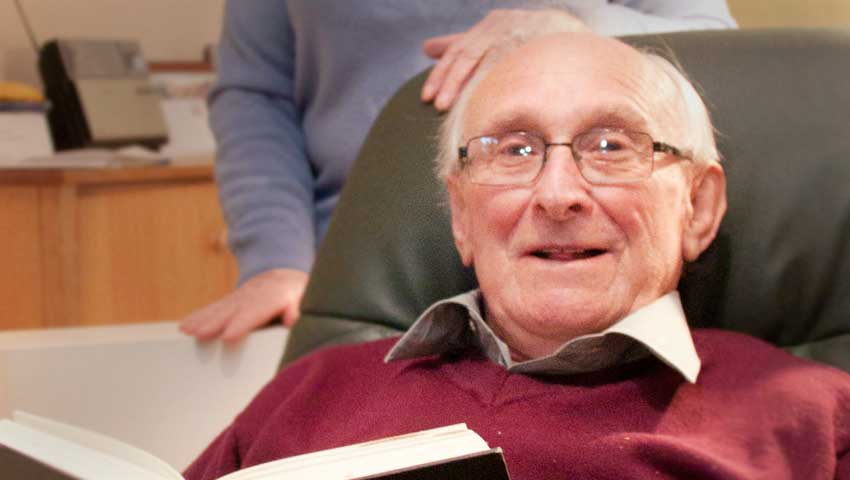 Once again he read widely on the subject and eventually found a technique that worked for him. He would start at the top of his head and imagine a wave of relaxation flowing slowly through his body, leaving peace and calm in its wake.
'I meditated two or three times a day,' says Keith. 'It was a great friend to me. Now I do it three or four times a week.'
Repetitive physical activity with his hands such as gardening is something else he finds soothing.
In tandem with all the work he put into dealing with his Anxiety, Keith takes medication regularly. It continues to work well for him.
Keith acknowledges that it is impossible to avoid stressful situations in life but he now handles them well. 'Everyone has stress; it's how you manage it.' he says. He visualises his wave of relaxation and the moment passes.
Anne has been his tower of strength, always at his side supporting, encouraging and loving him. 'She says, "We're going to get through this. Let's just breathe carefully. This won't last forever. It's no great problem"'.
'He didn't get completely better,' says Anne, 'but we learned to cope with the situation, to understand what it was all about and if the stress levels come up, he recognises it and deals with it.' Keith has had further heart attacks and bypass surgery, yet despite all this has reached the age of 85 and continues to lead a reasonable life.
The amazing thing, Anne adds, is that dealing with Keith's illness has taught them both how to deal with their own lives better.