When Depression first gripped James as a 20-year-old student, he saw it as weakness. 'My natural tendency was to think that strength of character would make everything alright,' he says.
It took James many years to accept that his chronic Depression is an illness, and that no amount of willpower alone can overcome it. In his initial determination not to take medication, he caused considerable anguish to himself and his family. 'I would wean myself off drugs, be fine for a while and then find myself in a black hole again,' he says. 'I told myself I was worthless. There were whole areas of my life that weren't functioning.'
Finally acknowledging that he needed to take antidepressants was actually a relief, he found, because of the effect they had. 'I am probably in the best mind space that I have ever been in since I was 20,' he says.
'I take one capsule every morning. Not only does it keep me sane, it enables me to improve every aspect of my life.'
Communicating is James' passion. Since the late nineties he has written, produced and presented more than 300 stories for Australian television including Coxy's Big Break for Channel 7, Postcards for Channel 9 and Bread for Channel 10.
A very personal project was a film he made, Farmarama, based on the seven years James, his wife Catherine and their three children lived on a fifty-acre farm. They poured their hearts and energies into it but as the financial pressures mounted James became really unwell. They decided to sell.
'Part of my way of coping with things is to make a film about it,' says James. 'It's a good way of communicating what I feel and tends to help other people too.' He has also made a short film, Invincible Summer, which explores ways to treat Depression, which he describes as 'being stuck at the bottom of a black hole trying to dig your way out'.
A few years ago, James founded his own company, focusing on coaching individuals, teams, and organisations to improve their communication skills and strategies.
He takes delight in enabling others to make breakthroughs in the way they present themselves. He recently helped two people who stuttered – one in his 50s and the other a young man with an AFL career ahead of him.
With both, James focused on breathing techniques. The man in his 50s reached a point where he could make 10 presentations in a row without stuttering. It changed his life. With the younger man, says James, you could see the psychological scars of being bullied in the past. He experimented with a number of breathing exercise until they found one that worked.
'The look on his face was priceless,' says James. The satisfaction he gains reflects contentment not just in a job well done but a life well lived.
In the 'black hole,' James considered himself useless, and was irritable and impatient with people around him. For most of his working life in television he was careful to hide the reason. When he finally told his friend and colleague, Peter, he was stunned by the support he received.
James describes Peter as a cynical cameraman, tough as nails. They have worked together for 13 years and at first Peter was ruthless with James in order to get the best result.
'I would do a piece and he'd say, 'That's shit! Do it again!' I was intimidated by him and furious with the bastard, but we became the best of friends.'
'I never suspected the Depression,' says Peter. 'When James told me, I was conscious of a change in myself too – a growing awareness of his condition. I noticed mood swings. I used to be gruff and to the point. I deliberately mellowed towards him.'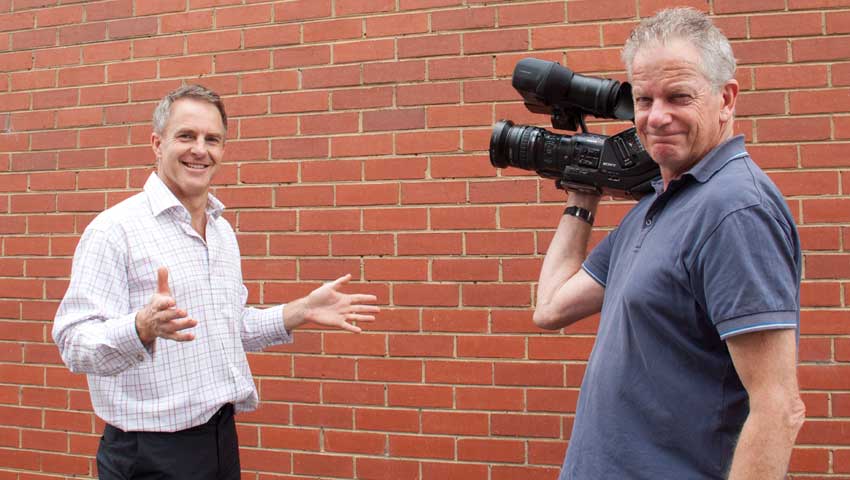 Filming Invincible Summer gave Peter a much deeper understanding of the illness. 'I realised Depression was a disease, that it wasn't just a question of pulling yourself together,' he says.
James believes his Depression gives him an edge in his work. 'I am really interested in knowing what other people are going through in terms of what stage of their career they are in, and how they process what is going on around them. It has given me considerable insight into people's insecurities.'
Peter describes the way James puts his natural empathy with others to good use. 'His media workshops are sensational,' he says. 'You have a bunch of cynical people and he turns them into self-confident, good communicators. He's brilliant.'
While James' life is still hectic, he is careful to look after his physical as well as mental health too. Three times a week he takes a morning off for yoga or boxing classes, while the medication gives him the space and ability 'to be the person I was going to be – probably a better person than I was going to be.' His life, he says, is in balance at last.