The following lines by writer and artist, Ingi Barr, describe her nights in the grip of Depression – the 'black dog' side of having Bipolar disorder.
And so it was
in times meant for dreaming
the Black Dog, sleepless and panting would sprawl all over her –
gnawing at her insides like a bone.
They come from her first book, Walking the Black Dog. She is now in the process of writing a second book, about a delusional dragon who believes she is a princess.
'She gets very grandiose and must have tiaras and jewels, and she buys ball gowns all the time that don't fit her,' Ingi says.
The Dragon who thought she was a Princess is written for young people, up to fourteen-years-old, but like Walking the Black Dog has a much wider appeal. With their quirky and funny stories and illustrations, Ingi's books explain the complexities of mania and Depression in a way people of all ages can understand.
Ingi herself first experienced Depression when she was ten, and for years suffered recurrent bouts which culminated in a serious breakdown when she was 39.
'When you have Depression it can affect you like having a bad flu.' she says. 'Your muscles ache, your joints ache, you're in a lot of pain. You walk around differently. You don't have the energy for anything. You just want to die.'
During one depressive episode, Ingi spent two months curled up in bed in Sydney. Her family lived in Perth. She was a long way from home.
Somehow a clear message finally cut through: 'Get up or die'. She forced herself to climb out of bed and go for a short walk.
Each day she walked a little further until after three months she had lost over six kilos and was steaming up hills as well as down them.
'I literally walked my way out of the worst part of the Depression,' she says. Ingi is passionate about the need for people affected by mental illness to exercise.
Walking the Black Dog was first written as an entry in a writing competition about Depression run by the Black Dog Institute. Soon afterwards Ingi moved to Melbourne and was also diagnosed with Bipolar disorder. It was then she began treatment with Professor David Castle, a psychiatrist whose treatment, she says, has 'given her a life'. Professor Castle, the highly-regarded Chair of Psychiatry at St Vincent's Hospital, was excited when Ingi showed him her work. 'We need to do something with this, it's brilliant!' he told her.
With his help, Ingi was able to get Walking the Black Dog published and widely promoted. He also encouraged her to give public presentations, something they initially did together. 'I would talk about the illness and she would tell her story,' he says. 'People were riveted.'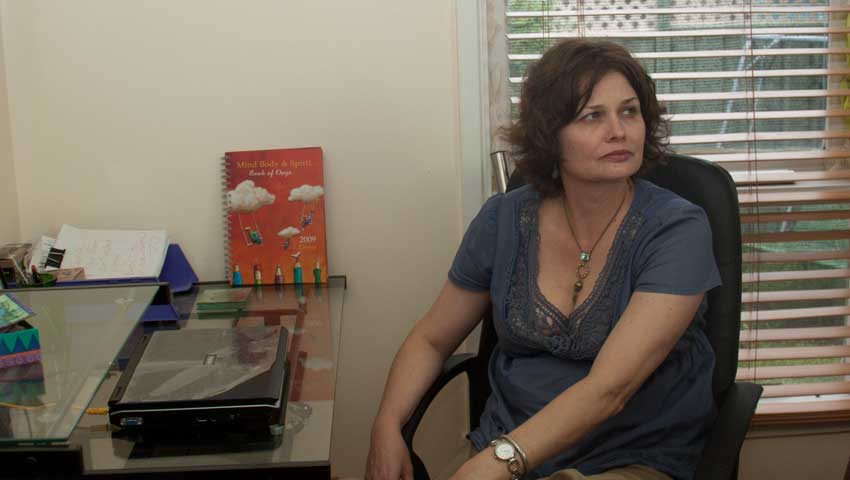 Public speaking held no fears for Ingi and she was soon presenting on her own. She is a natural performer. Most of the presentations are to young people in secondary schools but she hopes The Dragon who thought she was a Princess will reach a wider audience.
With the success of Walking the Black Dog, both Ingi and Professor Castle agreed it was best if he no longer continued to be her treating psychiatrist.
'We touch base every now and then to check that she is on the right track, to problem-solve,' he says. 'She's created something very useful in the way she spreads the message about mental health.'
Much of the impact of Ingi's presentations and creative work lies in the way she uses her own experience. As Professor Castle puts it:
'People with Bipolar can be terribly at sea. Ingrid shows she is in control. She still has the symptoms, but manages to monitor herself and work around that effectively. She doesn't allow her illness to dominate her life. If it drags you, it's very unhelpful. She drags it.'
Ingi admits she has spent much of her life unable to stick with anything for long. Now she is on medication that suits her and she recently completed a two-year Diploma in Community Development. She is now more confident about where she is going with her life, through her art and her advocacy work in schools.
'I intend to move, shake and inspire people, especially children,' she says. 'The whole thrust of my advocacy is the reduction of stigma.'