David is a big man in his late 30s, with an infectious laugh and an engaging personality.
'He's great fun to be with,' says his friend, Christine. Yet after moving to the country town where David lives, she was warned that he had Schizophrenia. She couldn't believe it.
'Here was this man who was cool, calm, articulate, educated, easy to talk to. He was totally together. I thought it was simply not true.'
Christine admits to knowing nothing about Schizophrenia at the time, associating it with 'homeless people on the street clutching bottles in paper bags'.
The next time she and David met he told her that yes – he did have Schizophrenia and was famous in his home town for all the wrong reasons. 'I had a very public psychosis in a community where everyone knows everyone,' he says.
David was diagnosed with Schizophrenia over ten years ago. A graduate of the University of Melbourne, he experienced his first episode of the illness in the early stages of a successful engineering career. But however severe his symptoms, he knew what it was like to live without psychosis and was determined to get his life back.
Christine believes one of the reasons why David's recovery is so successful is that he made this decision to get back to living in reality.
'It hasn't been easy for him but he's very stubborn,' she says. 'There's also the fact that – as he points out – it's easier to live in madness than in reality.'
David measures his slow journey to recovery from a five-day outdoor activity program run by Out Doors, an innovative recreational agency for people affected by mental illness. 'The effect of that week was profound,' he says.
Out Doors is one of many activities David became involved with over the years, during which time he has gained insight into the process of recovery from mental illness, which he acknowledges is inevitably different for each individual. He captures his insights in what he calls 'the 80:20 Rule'.
'When I looked at the hardships my mental illness caused me, only 20% were caused by symptoms – that is, hearing voices, delusional thinking and the myriad of hallucinations.'
'The majority of the negative impact on my life, that is 80%, came from the damage caused to my world, my sense of self and my relationship to the community. My everyday life was turned upside down and this is what caused most of the pain.'
Among the hardships David experienced were low self-esteem and confidence, anxiety, lack of money, social isolation, being overweight, a broken career, and low standing in a community that knew him and his family well.
The importance of David's 80:20 Rule, he says, is that it puts the community in the powerful position of making a difference in the lives of the mentally ill. There are many ways in which ordinary people can support those affected, such as including them in social activities, offering friendship and, importantly, employing them if possible. 'Never underestimate the positive impact of a single act of kindness,' David says.
David later worked as a Recovery Mentor for a PHaMs (Personal Helpers and Mentors) Program on the NSW-Victorian border. With what he had learned from his own experience of mental illness, David mentored others and helped link them in to their own communities and support services. This sometimes involved driving three hours a day with a colleague, visiting people who live far out of town.
David does not define recovery as being entirely symptom-free, but as being the best he can be at any time. It's a good principle in life for anyone, he says. There are still times when he experiences Depression and even hallucinations, but his medication generally works well for him, as does his own understanding of his illness. The support of family and friends has also been crucial.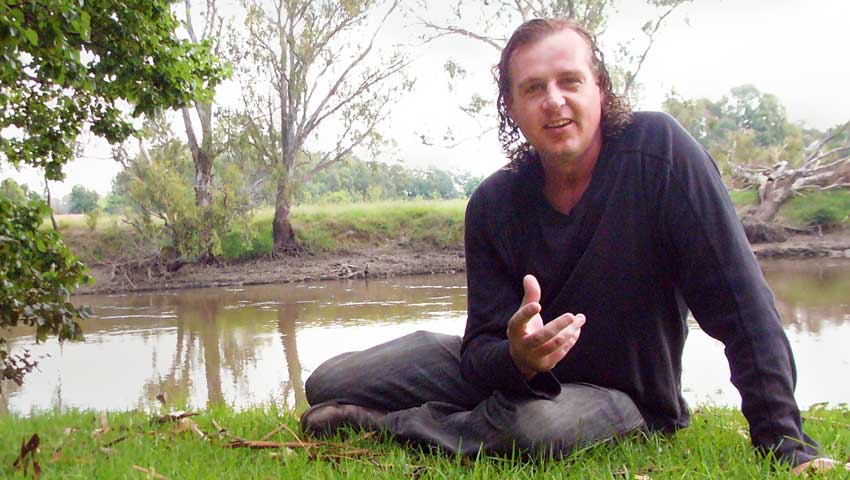 Until David told her, Christine was unaware of the extent of David's symptoms, including his battles with Depression.
'He does this very discreetly,' she says. 'He doesn't bring people down. Even when he has psychotic symptoms he still functions well. He has a high level of awareness and understanding.'
David brings a deep compassion to his work and a particular understanding of country people. He was brought up in Victoria's High Country where men are often defined as hard working, practical and proud. Its landscape nurtured David physically and spiritually, but local acceptance and understanding of people with mental illness can still be poor.
'Imagine how a rural male knowing little of mental illness is likely to react if he becomes mentally unwell,' David says. 'Without help, what you have then is a person in pain who is isolated and disconnected from themselves and the community. They would be filled with confusion and fear; their shame would be crippling.'
David has been in that place himself and knows it is possible to move on. He recently bought himself a good dirt bike to ride on the farm where he grew up. It's the biggest thrill in his life right now. Like the long drive over the mountain he makes every week to help others, it's a great symbol of a man loving his connection to the bush, and to his life.