Few Australians could begin to understand the life Claudio endured before he came to this country – yet this remarkable Chilean-born torture survivor has transformed himself into a citizen of whom we can all be proud.
'I was a mess when I arrived here,' he says. 'I was undernourished, I had worms in my guts. Ulcers. I also didn't speak a word of English.'
He was acutely paranoid. He trusted nobody and feared authority.
In Chile, Claudio had been involved in resistance to the military dictatorship of General Pinochet. Captured by the secret police, he was one of 20,000 captured, imprisoned and tortured.
'I was in solitary confinement,' he says. 'They used to keep the lights on during the day and night. I never saw the sunlight.'
'They also used to feed us a lot because torture takes so much energy out of you and they didn't want us to die until they got what they wanted.'
These experiences were added blows to Claudio's already harsh life. He was 11 years old in 1973 when President Allende was overthrown and the Pinochet dictatorship began.
At around this time, the relationship between his parents broke down. His father, who had Depression, became one of the 50% who were unemployed and isolated himself 'like a shadow in the house'.
The family was desperately poor, there was no welfare and Claudio's mother, with seven children to feed, took any work she could get. There were times when the family was homeless and wandered the streets knocking on doors asking people to take them in for the night.
'I remember my mother being extremely angry and upset,' Claudio says. 'She beat us children in her frustration. We were always chronically hungry.'
As a teenager Claudio joined the navy to escape poverty before doing his conscription at 18 with the Special Forces. He enjoyed the routine of service life, 'the boy scout things'.
He went on to university to study philosophy and became caught up in the resistance movement. 'We had our own army with guns, and were organised militarily,' he says.
When Pinochet was toppled in 1990, Claudio was released from the detention centre, interviewed by the Refugee and Humanitarian Aid Program, and offered a place in Australia. He was 28.
Claudio had a week to prepare. In haste, he married his long-time girlfriend so they could start a new life together. In Sydney, although entitled to stay at Villawood, they chose to stay with Claudio's sister in her one-bedroom unit.
It was a mistake. Claudio was traumatised and his wife and sister clashed.
They left after two months. He found unskilled work in a restaurant and she studied English, within a year gaining a place at the University of New England in Armidale.
Claudio's stubborn refusal to learn English – not unusual for refugees suffering trauma – increasingly isolated him. He had been taken to the NSW Service for the Treatment and Rehabilitation of Torture and Trauma Survivors (STARTTS) on arrival and was so paranoid he refused to allow the Spanish psychologist appointed to help him to take notes. 'I didn't want anything on record,' he says.
When his marriage broke down, Claudio drifted into homelessness and a life on the streets, to drugs and despair.
One Christmas he tried to kill himself. He ended up in a psychiatric hospital, was referred to the NSW Transcultural Mental Health Centre, diagnosed with Post-traumatic stress disorder, Depression and Anxiety – and given the support he needed in terms of medication and counselling.
This was the turning point for Claudio. He joined a consumer network, and became an advocate for people with mental illness who came from different cultural and linguistic backgrounds.
He now works part-time as a gardener with the Institute of Psychiatry where, 11 years ago, he met his partner Jan. She was working in the mental health field, mainly with migrants.
'My background is in health promotion, and I got interested in the mental health aspects of it,' Jan says.
She says she found working in the industry difficult because of the lack of emotional support for refugees like Claudio – especially as they tried to forge new identities, make new friends and find a sense of purpose.
'It's like taking a plant out of the garden and shoving it somewhere else without considering the soil or environment,' she says. 'It might grow or it might get stunted, wither and die.'
When Jan met Claudio he was recovering but still had not made the connection between smoking marijuana and mental illness. 'He thought he could have a little bit and it wouldn't make a difference,' Jan says.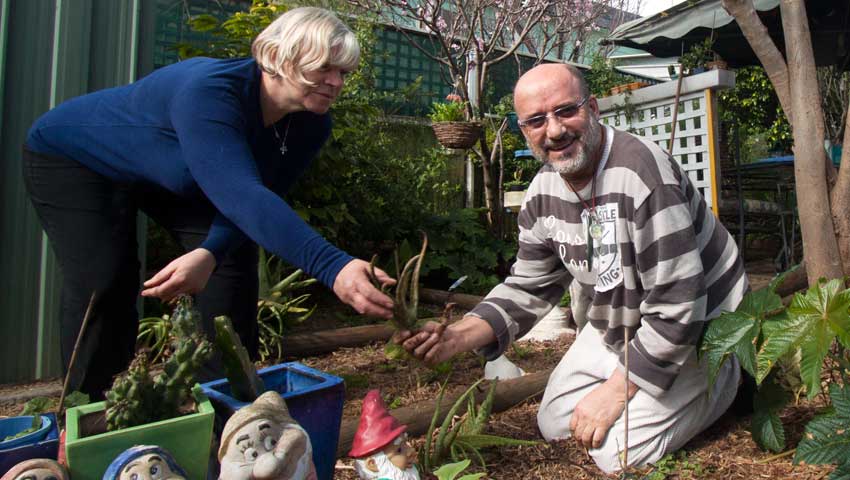 Jan's insight and knowledge helped Claudio realise that with his family background and experience of torture he was vulnerable to mental illness – and while marijuana made him feel briefly good it actually made him sicker.
She says he struggled with identity, questioning whether he was Chilean or Australian, and whether he should remain here or divide his time between the two countries.
Jan has given Claudio a sense of security. 'I never felt secure with my mother, or my brothers and sisters,' he says. 'Jan has given me family, loving and caring.'
Fundamental to Claudio's recovery is healing the rift with his mother. He visits regularly and has gradually renovated her house. 'Fixing the house feels like fixing my heart, and the relationship with my mother,' he says.
Claudio feels like a citizen of the world. 'I don't identify myself with any culture now,' he says, 'but I am very grateful to Australia.
'I will never live long enough to thank Australians for the support they have given me.
'I have my medication, my pension, my dogs and a beautiful woman who puts up with me going to Chile because she knows it is my sanity.'
'What more can I want?'