Cameron's story demonstrates how someone's life can change dramatically. Twice.
Cameron was diagnosed with Schizophrenia at the age of 24. Over the next four years, he went from being fit and active to overweight and depressed, and often drank himself into a stupor to numb the pain of his life.
'I started to accept that I was a "schizophrenic," that that's what they do and that's the way it was going to be,' he says. 'I resigned myself to my fate. I was also suffering from self-stigma. There was a huge hole in my self esteem.'
One day, skimming through his diary, Cameron read words that shocked him. He had written that the best years of his life were behind him. At that moment he made a commitment to change.
'I was sick of being unfit and unwell and sitting on the couch,' he recalls. 'I decided to have a go, and if it didn't work, the worst that could happen was being back on the couch.'
His first step was to go to a naturopath who really understood weight gain and loss. She put him on a strict diet and exercise regime.
At the same time he gave up alcohol, started going to the gym, running, and gradually becoming more active.
He felt better almost straight away and lost four kilos in the first week. Exhilarated, he pushed himself harder. After an intense three months he had lost 18 kilos.
'Then it was a matter of finding a balance that was sustainable over time, staying fit and keeping the weight off,' he says.
Cameron admits that when he embarked on his new regime, he didn't think in terms of recovery at first.
'It was about getting my life back,' he says, 'but it became a journey of rediscovering who I was and developing techniques to help me get well and stay well. It was also about early identification of the triggers that would make me unwell again.'
His next major step was a gradual reduction of medication, under his doctor's supervision. Cameron acknowledges that it is rare for people with Schizophrenia to be able to come off medication completely, and emphasises that recovery is a personal journey that involves understanding your illness and taking control of your life.
'I try to live a good, wholesome, healthy life,' he says. 'I do all those things that keep me well such as running 50 or 60 km a week which helps me sleep – a key to staying well. I also make sure I eat well and I only drink socially for enjoyment, not to medicate myself.' Cameron also wanted to help others out of the despair that he recalls only too well. 'The idea is to give people an alternative to what's out there, to get away from the idea that medication alone is the only solution.'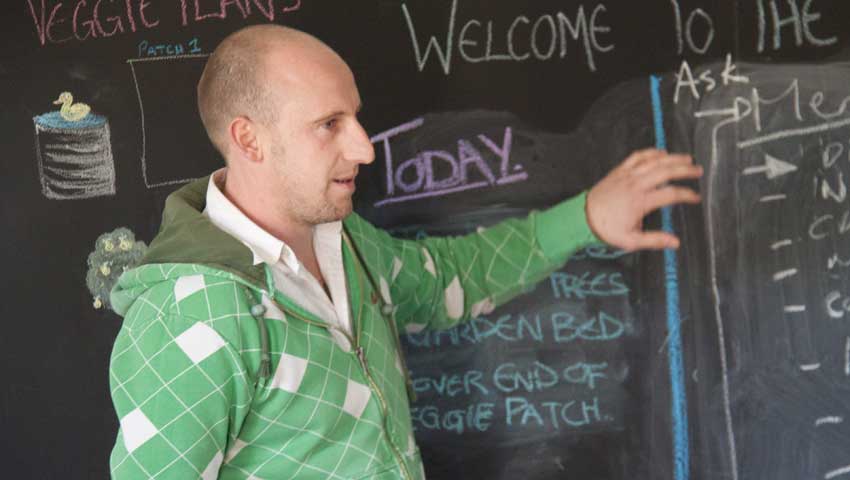 His first initiative was The Fresh Project. An unpromising, dusty block of land on the fringes of Melbourne which was transformed into productive land, with almond, olive and apple trees laden with fruit, a vegetable patch, a brood of free-ranging chickens, and bee hives – all thanks to people affected by mental illness who came to help.
'It was about providing activities which individuals can learn from, take away and implement in their own lives,' says Cameron. He dreamed that one day the Fresh Project would be residential. That's probably not achievable on this property but it's my vision.'
Cameron's day job is at the University of Melbourne where he is close to completing a PhD on stress physiology, focusing on the hormones associated with stress and how they affect target tissues around the body.
Weekends involve at least one day at the Fresh Project, usually accompanied by his wife Katie and their dogs Ruby (a small bulldog), and Fidel (a large Great Dane).
Cameron met Katie when he was well on the way to recovery. Meeting her, he says, made him determined to stay on track. He has not changed that view.
'I wasn't around when Cameron went through his tough times,' says Katie. 'But I do pick up on him having a rough day – he will be restless and fidgety. Then I encourage him to go outside and run or walk the dogs.'
Katie is proud of Cameron's work and supports him in whatever he feels he needs to do, while watching that he doesn't over-do things. 'He's inclined to take on too much,' she says. 'I'm there as a reminder that we all need to slow down sometimes.'