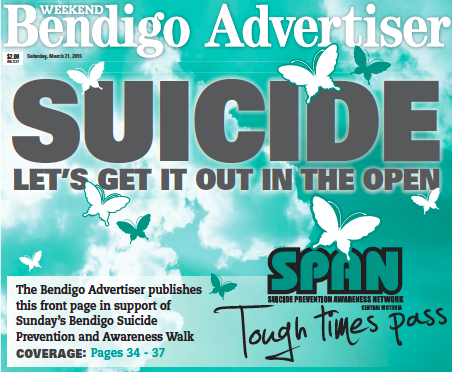 Four years ago, regional Victorian paper The Bendigo Advertiser was approached to support a walk raising awareness of suicide prevention.
Not only has the paper taken up the cause and supported the Central Victorian Suicide Prevention and Awareness Network's annual event, but every year the paper also dedicates it's front page to raising awareness.
Editor, Rod Case, has seen first hand the affect suicide has had on his local community.
He told SANE 'even if the effort saves one, it's worth the while.'
'For too long there has been a resistance to talk about suicide openly and right there is the major problem. Such attitudes simply feed one of the biggest issues faced by families of those lost - stigma.

'As a community we need to move past such attitudes and begin discussing suicide openly to raise awareness and work on prevention,' Mr Case wrote in a recent editorial.
The editorial, together with coverage of the event, is available on The Advertiser's website.