So far this year SANE StigmaWatch has worked with metropolitan media outlets, regional newsrooms, journalists and celebrities to reduce stigma and encourage responsible reporting of suicide-related issues.

In the past five months 98 Stigma Reports have been submitted, with 27 per cent inaccurate, 26 per cent trivialising mental illness and 26 per cent inappropriately reporting on suicide.

Media outlets contacted included The Daily Telegraph, The Australian, Fairfax Media and The Courier Mail.

On a positive note 19 Good News Reports have been submitted and can be viewed online.

The quarterly Stigma Bulletin was sent to over 2,000 members, updating StigmaWatchers on activity undertaken. You can subscribe online.

If you have seen a positive or stigmatising report in the media you can nominate stories for consideration.

It is important to remember that SANE StigmaWatch does not aim to stop media reports on issues such as mental illness and suicide, rather, StigmaWatch encourages more accurate and responsible reporting of these complex and sensitive issues.
StigmaWatch Statistics - 2014 StigmaWatch Reports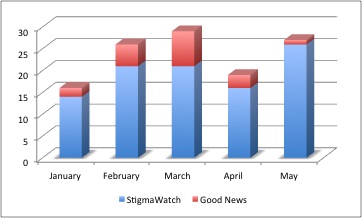 StigmaWatch Statistics - 2002 - 2013 StigmaWatch Reports